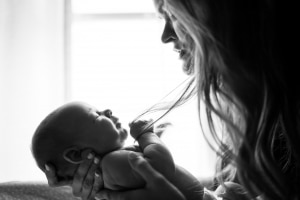 To celebrate World Doula Week (22 March – 28 March), we met Nicola, 'Doula-of-Belfast', to discuss her top tips for the fourth trimester as well as her role as a doula in the postnatal period.
Nicola's top tips for the fourth trimester postnatal tips include:
Take time to recover
You are baby's safe place
The dishes can wait
Lots of skin-to-skin
Hire a doula
As a birth and postnatal doula, Nicola provides physical and emotional support for mums-to-be during the process of giving birth and in the postnatal period after delivery. There is no better place to see a doula making a difference to a new family than with postnatal doula services. So much preparation goes into preparing for birth, and that is right and good, but how much prep goes into life with a newborn? It doesn't all come easily. Getting a supportive team around you is imperative. It has been said it takes a village to raise a child, but it also takes a village to help and nurture the parents.
In today's modern world, our family and friends may be unavailable to help us out. Parents may still be working, and our friends could be scattered across the globe. This is where having a postnatal doula is an investment.
We asked Nicola to describe a typical day in her life and she explained:
"I will come into your home, make a pot of tea and a nourishing snack for you as we discuss how I can help you for the day.
While you take some time to catch up on sleep, essential care, or catch up with friends, I will take baby, if you would like, settle him/her down, and put a load of laundry on, prep that evening's meal or help the other kids with homework or make space for you to have one-to-one time with the other children.  Maybe you would prefer to discuss and process your birth, or have some breastfeeding support. Perhaps you need some essential groceries for the weekend. I can get those on my way to you."
Western society has dictated that we should be "back to normal" immediately. But becoming a mother, there is now a new normal. Our bodies need time to recover from birth and pregnancy. We need to use that time to bond with and get to know our new baby. Responsibilities change, but unfortunately they still need our attention.
Postnatal doulas will help you prioritise and lighten the load in those first few months of sleepless nights, uncertainty and incredible overwhelm.
If you would like to find out more about how Nicola can support you, send her a DM (@doula_nicola_jayne), or email nicolajayne@doulaofbelfast.co.uk.
https://birthdays.baby/wp-content/uploads/2022/03/zach-lucero-fwjsBPbRm4g-unsplash-scaled.jpg
1707
2560
Birthdays Baby
https://birthdays.baby/wp-content/uploads/2021/03/Birth-Days-White_300x200.png
Birthdays Baby
2022-03-21 19:11:55
2022-03-21 19:11:55
A doula's tips for surviving the fourth trimester