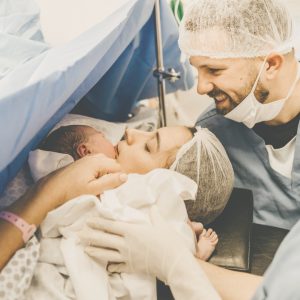 Many women are unaware that where they give birth has quite an impact on their labour and birth. A safe, calm, secluded, familiar, undisturbed environment facilitates the flow of the essential labour and birth hormones oxytocin and endorphins.
The right childbirth environment differs from one woman to another, but it should be warm, quiet, safe, private and with soft lighting. The renowned French Obstetrician Michael Odent describes mammals needing low light and quiet, for their optimal hormone production.
Most women choose a hospital birth. While Home from Home hospital units strive to create a more home like environment, the reality is that some labour rooms can still look medicalised and may not feel homelyor warm and inviting.
A few simple physical changes and adjustments that you and your partner can make to your hospital room can make a significant difference to how you feel when you are in your birthplace. This has positive effects on your labour and birth and makes your experience more enjoyable.
The positive effects are not just beneficial to you and your partner. Interestingly, a study has also shown that when a birthing space is changed to promote the production of oxytocin, both the woman and her midwife benefit from the improved environment. Increased levels of oxytocin affect our neurophysiology and reduce stress. When we are in an environment where the noise is low, the lights are dimmed and all our safety needs are met, we are relaxed and at ease and generally happier which is positive for the birth process.
Also making changes to the birthing room can make it easier for you to move around, find comfortable upright positions and can help your labour progress more naturally.
Here are some ways in which you can change your birthing room tomake it feel more comfortable and calming.
Create a Birth Nest
Close the doors. The closed door creates an atmosphere of peace, security, and emotional safety.
Pull down the window blinds or draw the curtains to enhance your sense of privacy and to feel cosier. It reduces any outside distractions.
Turn off overhead lights.
If there is a spotlight in the room direct it onto a wall.
Create soft focus, warm, dim lighting. Pack battery operated strings of fairy lights and LED tea lights in your birth bag and string/position them around your room.
Have spare batteries for your lights.
Bring with you a 'Galaxy' type night light to turn your room into soft focus colours with clouds and stars. Like a Spa !
Things to have from home.
A cosy blanket, throw or shawl from home that is familiar to you and makes you feel safe and calm.
Your favourite pillow or pregnancy pillow or bean bag.
our favourite pillow or pregnancy pillow or bean bag.
Photographs of family, children, pets, favourite places.
Positive Affirmations, images of birth. Bring some string and pegs to hang them up. Or Blue/White tac to position on walls.
A Bluetooth speaker for your music. Music can help you relax and alsocut out any external corridor/traffic noise. Or pop on your headphones.Have your playlists organised.
A small fan. The pram/ stroller clip on type fan is useful as they can be adjusted to clip onto any surface, and they don't need to be held.
Ask staff to adjust heating in the room until you are comfortable.
Move the Bed
The bed in the centre of the room can take up a lot of available floor space. You can ask for it to be removed from your room and be placed outside until you want it. This creates more room for you to move around as you please and use all the available space.
When the bed is not taking centre stage in the middle of your room, you will be more likely to remain mobile and upright. Out of sight. Out of mind!
Gravity, Gravity and some more Gravity!
Alternatively, the bed may be positioned against a wall.
Adjust the bed so that you can use it in an upright position. Ask the midwife for a demo and how to change the bed into different positionsto help you get comfortable.
Ask for birth mats, birth balls and peanut balls to be brought into your room.
Ask midwives to move any medical equipment not in use outside of the room or cover it.
Lose distractions.
Ask the midwife to cover the clock or move it out of your line of vision.You do not want to keep track of time when in labour. Instead focus on your breathing.
Your privacy is of utmost significance, so speak to your midwives about minimal staff and disruptions.
Put a polite sign on the door asking staff to always respect privacy. This reminds the team to knock gently and wait to be invited into your room. It can help to reduce unwanted disruptions to your space and avoid disturbing the birthing process.
Your birth space is your sanctuary and should be treated as such by all those in it.
Setting up your birth space gives you access to a place where you can let go and tune in to your baby, your body and your instincts.
And finally.
Discuss with your birthing partner the elements that are important to you.
Research and discuss all your options and preferences for your place of birth with your Midwife/Obstetrician
Discuss with your Midwife/Obstetrician, as to what is available in each birth setting as they do vary.
Remember your labour and birth are yours. Keeping yourself well informed is vital.
https://birthdays.baby/wp-content/uploads/2023/04/FA63130F-73BC-4F2A-8053-3BA7E487B330.png
1080
1080
Birthdays Baby
https://birthdays.baby/wp-content/uploads/2021/03/Birth-Days-White_300x200.png
Birthdays Baby
2023-04-20 15:15:29
2023-04-20 15:31:09
Why is the environment you birth in important?